Custodians of the dead
By Jonas Böttern - 13 Feb 23
Vultures are purifiers. They are disposers of the dead and eat what others cannot. Vultures are scavengers. They consume carcasses before decay sets in, quickly removing bacteria and other poisons and stopping them from spreading. Vultures are the environment's unsung heroes. 
Listening, to Kins is a performance about listening to the voices other than humans in order to find kinship. On several occasions, I have been sitting on a wooden chair whilst actively listening to the sound of vultures eating. They chatter a lot whilst eating: hissing, kicking and flapping. It is a grotesque yet serene act: the poetics of eating and being eaten. I put their sounds into letters and words as a way to understand. Vultures have been on earth for millions of years, much longer than we have. So when they talk, I listen. They are the teacher, and I am the student. Using onomatopoeia*, I transcribe the sounds letter by letter, word by word. The result is an onomatopoetry created by the vultures themselves; I am just transcribing their feast on the dead.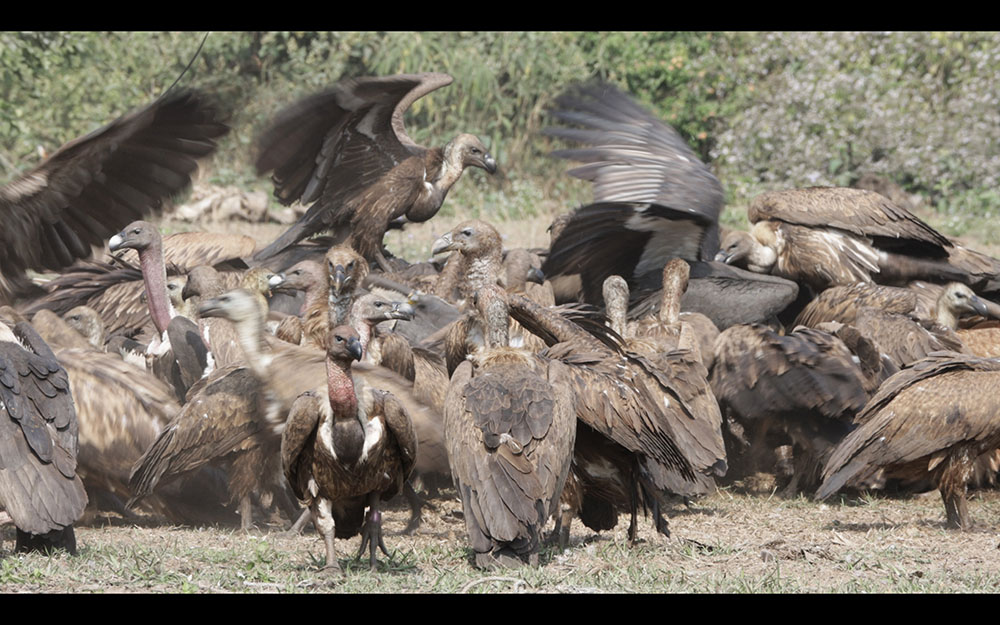 Here is a snippet of what an ecological cycle of eating and being eaten sounds like:
Hzzzz zzz hiz hiz flap flp flp ha ha ha cr cr crrrrrr crk rk rkrk eeeee ie ie eeeek eek ek ek hzzz hzzzz hzzz eik eik flap flap flp cru rrrr cr rrrr qua quack qck qck ek ek ek eeeeee eeeeee hhhhhuuuuuuu huuuuuuuuuu
* An onomatopoeia is a word that phonetically imitates, resembles, or suggests the sound that it describes.
Jonas Böttern is an artist primarily based in Stockholm, and a part of the Hillside Projects, an artistic collaboration between him and Emily Berry Mennerdahl.  Böttern is a part of PhotoKTM5's six-week residency program, which is being held at Jatayu Vulture Restaurant, in Kawasoti, Nawalparasi. Here, he shares his reflections of living and learning new ways of being in the community forests of the Tarai.