/ Program
Arts & Education Program
OPEN CALL for Student Workshops (Online)
Photo Kathmandu is pleased to announce that the festival's Arts + Ed program this year will focus on the Kathmandu Valley Urban History Project, an ongoing public knowledge initiative of Nepal Picture Library that has been examining the rapidly changing landscape of Kathmandu valley. Through 2020-2021, seven research fellows have delved into topics related to urbanization, public space, water resources, land ownership and the commons.
Photo Kathmandu is pleased to support and collaborate with participating research fellows to present a series of online workshops that have been designed to enable young people – future urban planners and decision makers – to deepen their understanding of and critical engagement with the city they live in.
We are pleased to invite high school and undergraduate students based in Nepal to apply for the following workshops.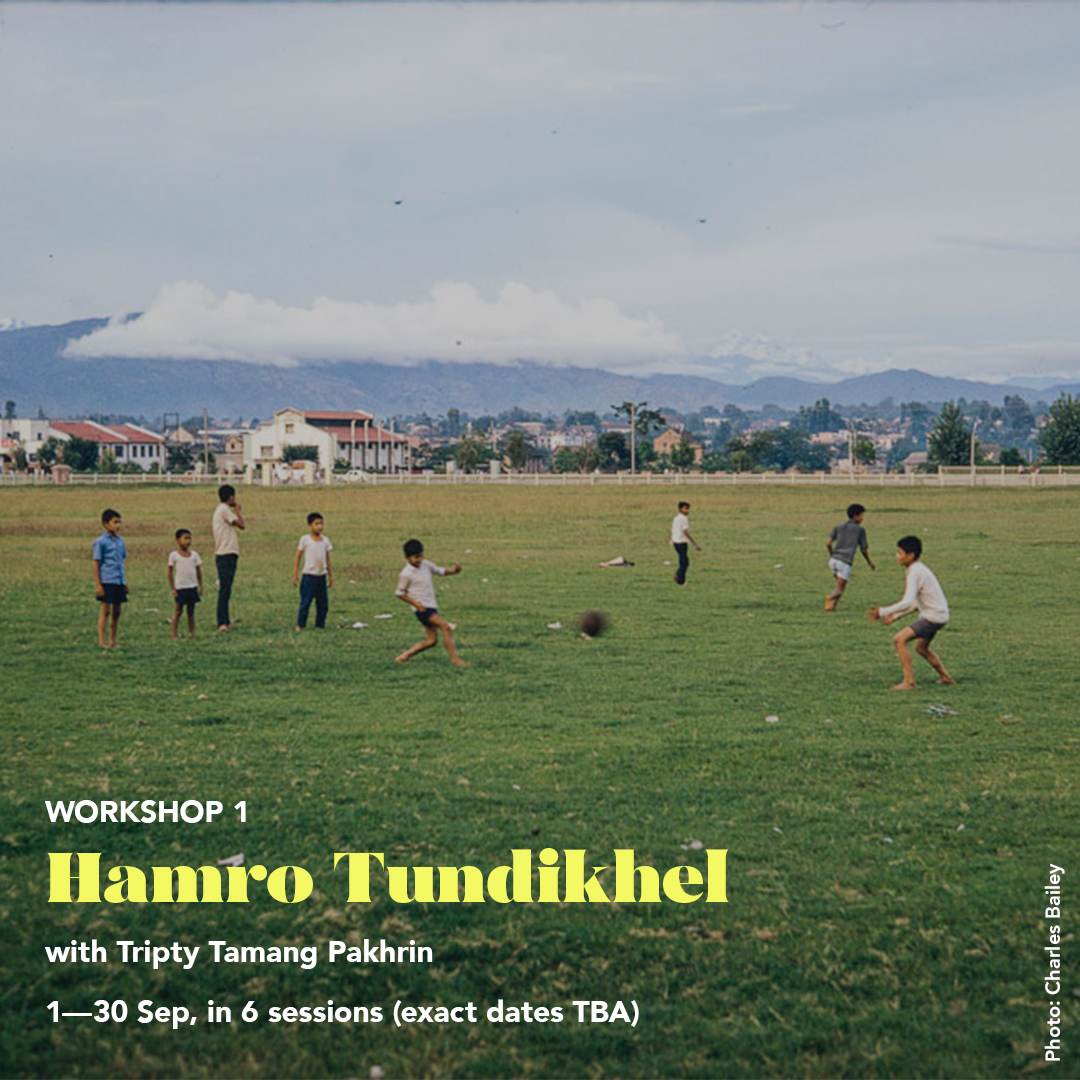 Workshop 1: Hamro Tundikhel 
Participants will learn about the history and meanings of Tundikhel through online presentations and discussions and interactive activities. 
Tripty Tamang Pakhrin is a photographer based in Kathmandu, Nepal. Her interest lies in youth culture, space, repetition and memory. Tripty has been exploring how Tudikhel has changed over the last several decades in shape, size and function. How has Tudikhel meant different things to different groups of society in Kathmandu and what will become of this landmark yet contested shared space?
6 sessions total from 1- 30 Sep (exact dates TBA)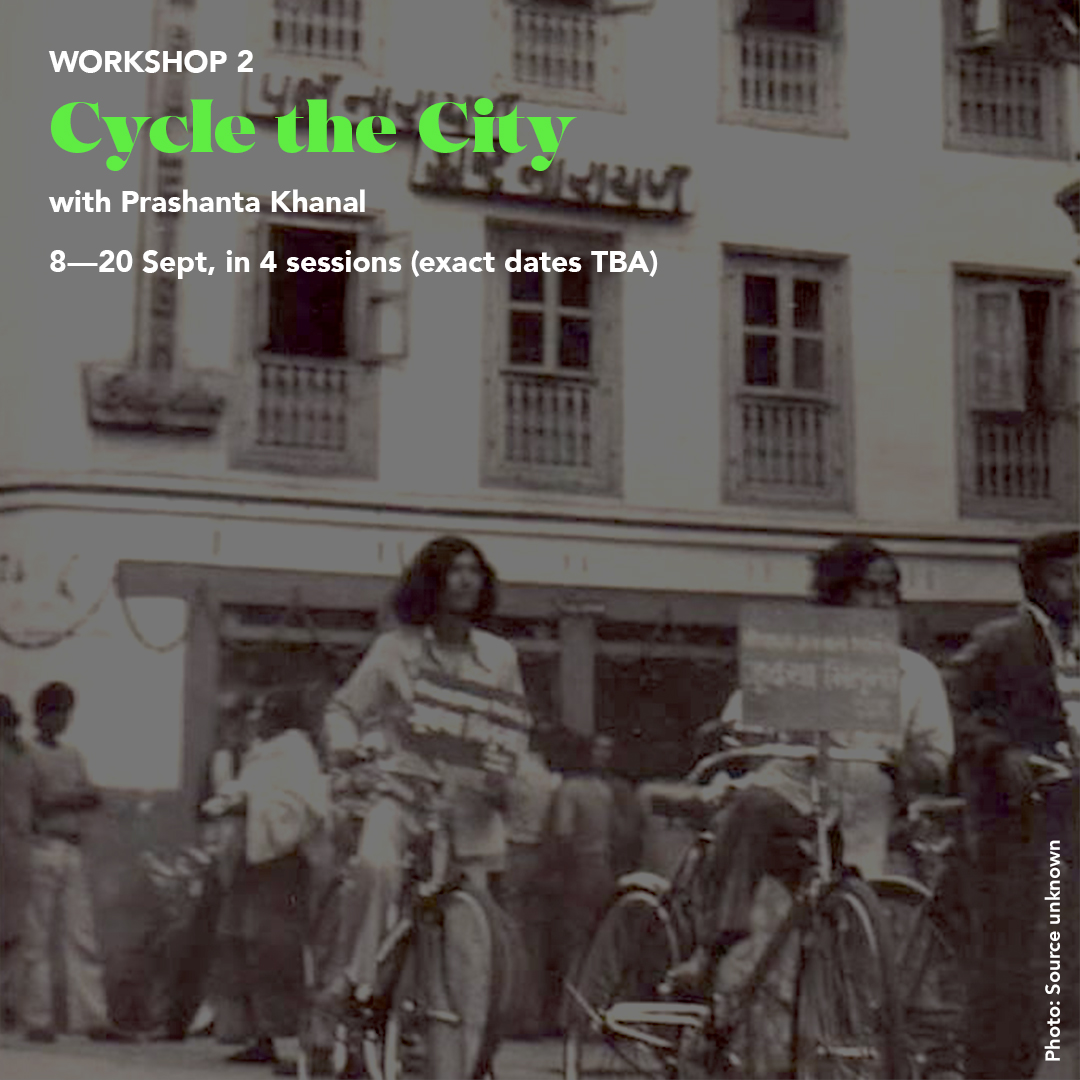 Workshop 2: Cycle the City 
with Prashanta Khanal
Participants will not online learn about the history and future of cycling in Nepal but will be designing their own cycle friendly neighborhoods. 
Prashanta Khanal works on issues related to sustainable cities, mobility, and urban environments with a focus on policy and research. His research for Kathmandu Valley Urban History Project focuses on how cycling has shaped society, politics, mobility, and the gender class of the people within and outside the valley.
4 sessions total from 8 – 20 Sept (exact dates TBA)
Workshop 3: Whose land is it anyway? 
with Irina Giri
Through discussions, performances and multimedia activities, participants will explore personal and political meanings behind lands that are neglected. 
Irina Giri is an interdisciplinary artist. She works with audio, writing/text, video and film. For every project, research, introspection and experimentation play pivotal roles in her process. Her research for Kathmandu Valley urban History Project takes a personal approach to look into the pieces of land that seem neglected and are often the only remaining green spaces in urban Kathmandu. What would ultimately happen to these pieces of land that remain? What are its possibilities other than the obvious?
4 sessions total from 25 Aug- 8 Sept (exact dates TBA)
Who can apply?
High school and undergraduate students based in Nepal
Language: Nepali + English
How to apply?
Fill out the application form here https://forms.gle/Tv32GX5NF4pAd4dt8
or
Email the following details to education@photoktm.com
Name, Email, Phone no., City, School/ College, Class/ Year
Which workshop/s are you interested in?
Tell us why you are interested in this workshop?
Application deadline: 21 Aug 2021